BSfG Commitment to Empowering Students for their Future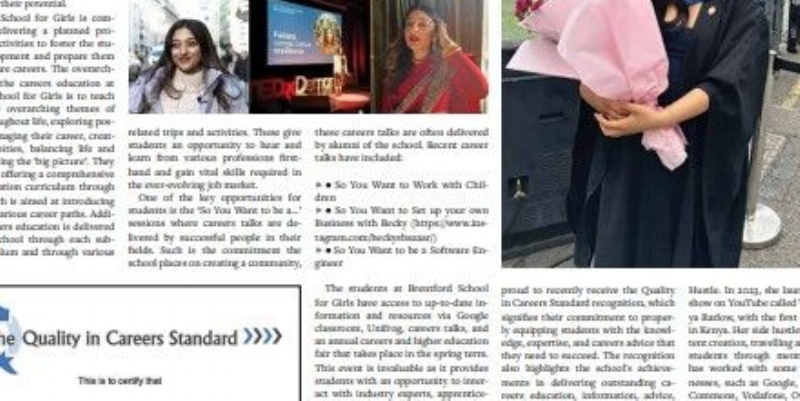 Brentford School for Girls school is committed to delivering a planned programme of activities to foster the students' development and prepare them for their future careers
As parents/carers, it is natural for us to want the best for our children and for them to achieve their maximum potential in life. Brentford School for Girls recognizes that, which is why they are committed to providing a planned programme of careers education for all students. The school is devoted to supporting its students in preparing for their future and fulfilling their potential.
Brentford School for Girls school is committed to delivering a planned programme of activities to foster the students' development and prepare them for their future careers. The overarching aims of the careers education at Brentford School for Girls is to teach students the overarching themes of growing throughout life, exploring possibilities, managing their career, creating opportunities, balancing life and work and seeing the "big picture". They take pride in offering a comprehensive careers education curriculum through PSCHE, which is aimed at introducing students to various career paths. Additionally, careers education is delivered across the school through each subjects' curriculum and through various related trips and activities. These give students an opportunity to hear and learn from various professions first-hand and gain vital skills required in the ever-evolving job market.
One of the key opportunities for students is the "So You Want to be a…" sessions where careers talks are delivered by successful people in their fields. Such is the commitment the school places on creating a community, these careers talks are often delivered by alumni of the school. Recent career talks have included:
So You Want to Work with Children
So You Want to Set up your own Business with Becky (https://www.instagram.com/beckysbazaar/)
So You Want to be a Software Engineer
The Students at Brentford School have access to up-to-date information and resources via Google classroom, Unifrog, careers talks, and an annual careers and higher education fair that takes place in the spring term. This event is invaluable as it provides students with an opportunity to interact with industry experts, apprenticeship providers and university representatives who can offer information and advice on a wide range of career paths.
The school also provides students with career resources in various forms, which are readily accessible. Students can access the school library, the careers room, the Unifrog virtual careers library, and the Google Classroom. These resources consist of information and advice on careers in multiple industries, providing students with information and advice as they explore their future prospects.
The school has good working relationships with a range of organisations to help deliver a stronger service to its students. They achieve this through a variety of relationships with various independent and governmental bodies and connections with industries, helping to provide students with access to impartial careers advice. They understand that for students to achieve their best, impartial advice is fundamental. Additionally the school employs a full-time Careers Adviser to offer impartial careers guidance.
Brentford School for Girls was very proud to recently receive the Quality in Careers Standard recognition, which signifies their commitment to properly equipping students with the knowledge, expertise, and careers advice that they need to succeed. The recognition also highlights the school's achievements in delivering outstanding careers education, information, advice, and guidance to students.