BSFG CELEBRATES 'GREAT ACHIEVEMENT' IN MATH CHALLENGE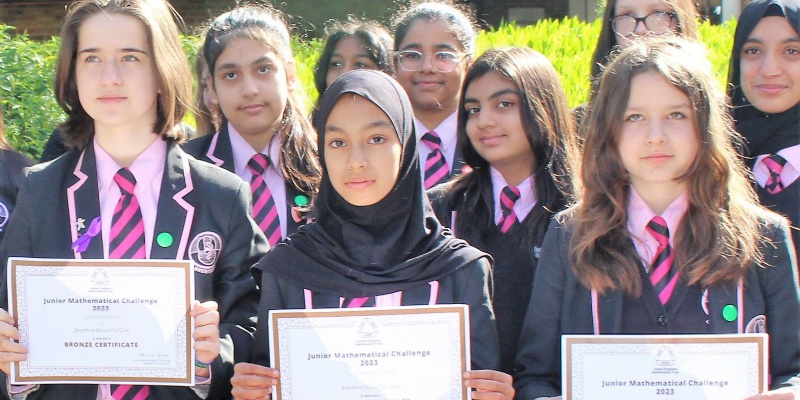 The results of the recent Math Challenge competition are out, and Brentford School for Girls students in Years 7 and 8 did really well: collecting 25 Bronze and 12 Silver wins.

The school has now issued a statement congratulating the students. They said: ''Well done to all the students who participated for their hard work and problem solving skills, which helped make Brentford School for Girls a true winner.'' The school says that 'every student gave their absolute best, and their best is what makes Brentford School for Girls proud'.

The statement continued: ''Even those who didn't win a prize in this competition should keep striving and continue to work hard to achieve their goals. Brentford School for Girls values and appreciates the efforts of all their students.

''A special shout-out to three students who were best in the school: Zoe, Anabia, and Natasha. They have outdone themselves in this competition. They are a brilliant example of how determination and continuous hard work can pay off. Their success is the result of dedication, focus, and extra effort outside of classroom hours. Brentford School for Girls is proud to have such incredibly talented individuals in their school.

''Brentford School for Girls feels privileged to have dedicated teachers who provide their students with the right resources and support to achieve their academic goals.''
The school says their mathematics department 'has always been dedicated to providing students with a rigorous curriculum, thorough training, and opportunities to participate in various maths competitions,' saying that they they 'instil real love and passion in maths that helps BSfG students come out with so many flying colours in every competition they take part in'.

The school hopes that this story of the Brentford School for Girls Math Competition students will inspire all students to continue striving for excellence in every aspect of their lives.