HIDDEN POETRY TALENT AT BRENTFORD SCHOOL FOR GIRLS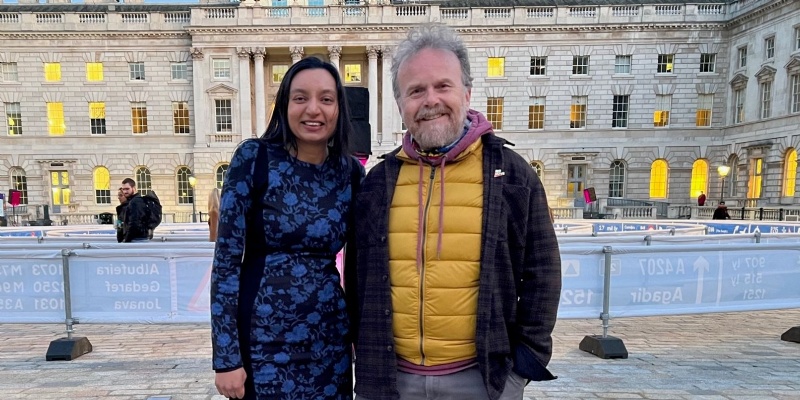 There has been some hidden poetry talent at Brentford School for Girls, but the secret is now out in the open - with staff member Charnjit Gill performing poetry at Somerset House a few weeks ago.
The focus of this event was the intersection of art and spoken word poetry.
For the first 2023 instalment of the Morgan Stanley Lates at Somerset House with The Courtauld series, visitors could experience another true site-wide takeover with exclusive live performances and experiences themed around current exhibitions. This event was a fantastic way to promote South Asian Poetry and created a great platform for artists and poets.
At the centre stage of the Somerset House courtyard was an outdoor installation by Mumbai-based artist Jitish Kallat. To coincide with this, Charnjit performed a 15 minute spoken word poetry set on the theme of home and belonging. The evening was presented by Mehfil Arts and Daytimers UK who celebrate South Asian Poetry, and it was sponsored by Morgan Stanley.
Poetry can also be used as a tool for teaching about history, culture, and the human experience, to connect us to our ancestors, and to connect us to our community.
Charnjit Gill is a real inspiration for others in exploring their own hidden poetry talents. At Brentford School for Girls, Tim Holloway (Head of Film Studies) runs Writers Unlimited with the help of Charnjit to encourage students to write. Writers Unlimited is an extra-curricular club which began in January of 2022 with a small core of students ranging from year 8 through to year 12, and it has grown steadily since then.

Students regularly participate to write, discuss and receive feedback. The students write from prompts given to them each week – recent ones have included 'April is the cruellest month…' and 'The devil's in the detail…' – or work individually on longer projects of their own choosing. Mr Holloway and Ms Gill set the tasks, read the work and sometimes write their own stuff too. Each year the school aims to publish a short volume of the students work with volume #2 due in July!