PERSONAL DEVELOPMENT THROUGH PERFORMANCE AT BRENTFORD SCHOOL FOR GIRLS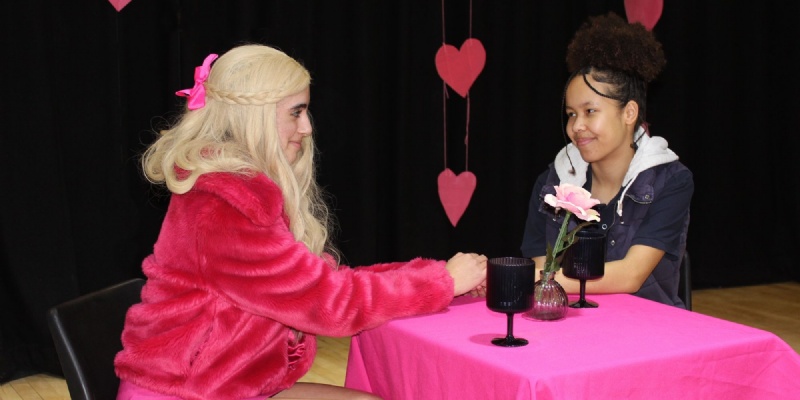 The students and staff of Brentford School for Girls will have Brentford thinking pink when they present their production of Legally Blonde JR. on Thursday 9th and Friday 10th February.
With over 70 students involved, the staff and students of Brentford School for Girls have worked tirelessly practicing harmonies, dance routines and lines since October- and now can't wait to perform to a live audience. This is a production that has involvement from all year groups either performing, working backstage or helping with designing and making items needed as scenery, costumes and props.
For the students of Brentford School for Girls, the annual school performance is one of the key opportunities for students to build personal development and become the 'Future Brentford Girl' as stated in the school's vision.
In addition, as part of the school's commitment to the wider community, Brentford School for Girls will also welcome a number of local primary schools to attend special viewings of the production during the day. This is a great opportunity for the students to see a secondary school and ask questions to the cast members.
Freddie Gershon, CEO of Music Theatre International (MTI) says that: "Legally Blonde JR. may be a comedic, light-hearted show, but it also explores serious themes of self-discovery and independence which resonate with people of all ages."
The story itself follows Delta Nu sorority president Elle Woods who seems to have it all: good looks, a relationship with the 'campus catch' and great taste in clothes. However her life is turned upside-down when her boyfriend, Warner, dumps her in an attempt to start getting 'serious' about his future and attend Harvard Law. Determined to win him back, Elle uses a lot of hard work and some charm to get into Harvard Law so she can prove to Warner that she's serious enough for him. Once at school, she is challenged by her peers, professors and her ex but, with the help of some new friends, Elle realises her potential and sets out to prove herself to the world.
''It's been really hard work learning all of the lines, dances and songs- but I've loved it!'' says Elina, who takes on lead role of Elle Woods in her first school production. She is joined by Shadee Marie, school production regular as Warner.
With a script by Heather Hach and music and lyrics by Laurence O'Keefe and Nell Benjamin, Legally Blonde JR. is based on the book by Amanda Brown and the hit Metro-Goldwyn-Mayer motion picture starring Reese Witherspoon, which was nominated for a Golden Globe Award for Best Motion Picture: Musical or Comedy.