No Darth of Opportunity At Pinewood for Brentford School for Girls Film Students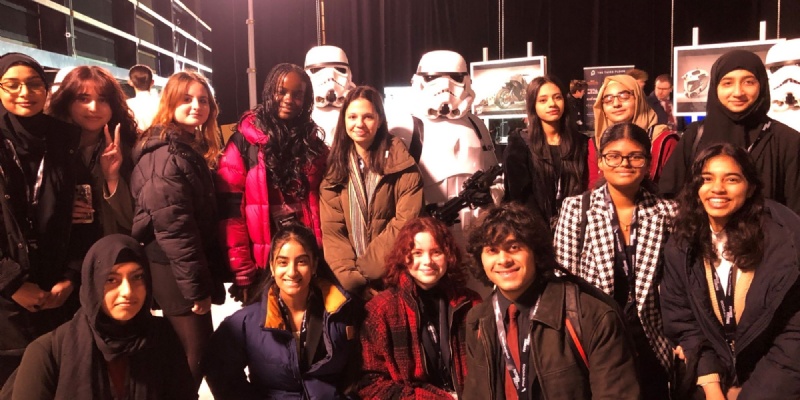 Just over thirty minutes away by minibus, in the heart of Buckinghamshire, awaits the UK's biggest and probably most famous film studios, Pinewood; home to 007, Star Wars, Mamma Mia and Paddington amongst hundreds of other British, Hollywood and international productions. This autumn term, the Film Studies department at Brentford School for Girls secured tickets for the second Pinewood Futures Festival, a careers and information event held at the studios giving school-age students the chance to learn more about the vast array of job opportunities which exist in this fast growing sector of the UK economy. This year the A level students studying film, drama, art, photography or textiles at Brentford School for Girls took part in the event.
They were greeted in the new Sean Connery Studio by studio guides and supplied with a Pinewood tote bag and lanyard before heading off into the adjacent studio space where they were confronted by a unit of Stormtroopers in full costume and blasters. This thrilling photo opportunity, though clearly a crowd pleasing moment, is also indicative of the current reality at Pinewood where Disney + has been making Andor, the latest Star Wars series. In addition to the physical presence of these anonymous white-armour-clad clones, there were examples of the prop making, visual effects and many of the extraordinary high tech solutions which films, TV and games now rely on to provide viewers with realistic worlds for their narratives to inhabit. The Brentford students chatted with visual effects specialists at ILM (Industrial, Light and Magic) who run internships for talented visual effects artists and have a wonderfully diverse and inclusive workforce where talent is the only prerequisite.
One of the highlights for the students of Brentford was a talk by Oscar and BAFTA winning Special FX supervisor and director Chris Corbould whose credits include No Time To Die, The Dark Knight and Inception. He was interviewed about the world of physical special effects in movies and made it clear to the staff and students the importance of science and engineering in creating the extraordinary effects we see in big budget movies: from car chases, to building collapses, to explosions and fire-fights. Filmmaking is about harnessing all the talents to tell the best stories in the most exciting and relevant ways, and there is as much a place for engineers in this creative world as there is for artists and actors.
The final hour was a chance for the Brentford students to make contacts in the careers fair section with people at the National Film and Television School, ScreenSkills, The London Screen Academy and Fremantle amongst many others. The students were wonderfully proactive in seeking out things that interested them and found out about some great opportunities for career progression including Level 4 courses and internships to apply for after A level.
This was a brilliant experience which brought into focus the wonderful opportunities which exist to make a career in film, television and games whether you are technical, scientific, artistic or even aspire to be a great organiser or manager. These industries are huge and growing fast and open to all who have the talent and vision and commitment to get involved.
For more information about Film Studies A level and the opportunities to get involved contact Mr Holloway, Head of Film at Brentford School for Girls via email at tholloway@brentford.hounslow.sch.uk.