Wellbeing a High Priority at Brentford School for Girls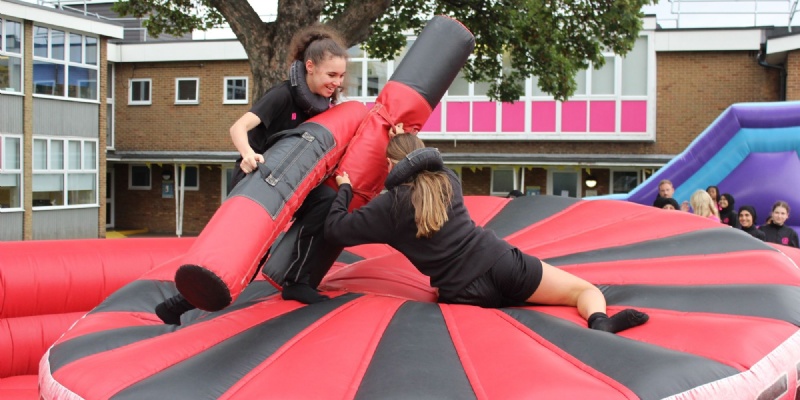 As a part of the PSHE curriculum at Brentford School for Girls, the team have developed a programme for students to be able to partake in activities beyond their academic studies and allow them to discover who they are outside of just being 'a pupil'. Dubbed as 'Blooming Afternoons' lessons after lunch during the year are being replaced with activities to give the students the opportunity to try something different, new and outside of their comfort zones. More importantly, it gives students the opportunity to understand how leisure can help them deal with the pressures of their studies and exams.
Tuesday 4th October marked the debut Blooming Afternoon and was an exciting day for the Year 11 in the school to get stuck into a range of activities including an inflatable obstacle course, rock and roll gladiators, sumo wrestling and swing ball.
The students found the first of these afternoons really useful as shown below: -
"It was a fun and new experience that allowed us to wind-down. It didn't feel like we were at school – it felt like a trip. 5 stars!" - Umara
"I have done nothing like this before. It was tremendous! I would love to do it again in the future. Thanks Miss Williams and Miss Pearce!"- Nawal
"The experience was enlightening and it helped me bond with people I wouldn't usually spend a lot of time with, which helped me with my communication and teamwork skills. It was amazing!" – Samanta
In addition to the initiative from the PSCHE team and as part of Brentford's ongoing commitment to student wellbeing, year 11 students have also been enjoying a six week program of mindful meditation for twenty minutes each morning to help focus their minds and alleviate exam anxiety. The sessions have been run by Miss Joynat who doubles as a trained yoga and science teacher at Brentford School for Girls.
"Students have learnt some breathing techniques, yoga poses and followed a series of guided meditation to help give a much needed rest to their active minds. Alongside this, they have also enjoyed journaling their emotions and learnt how to schedule their busy week. It has been a powerful way to kick-start the day. We hope to have shared some tools to manage their anxiety levels during an important milestone in their academic careers and future. "