Hounslow 'Teen Read' Book Shortlist!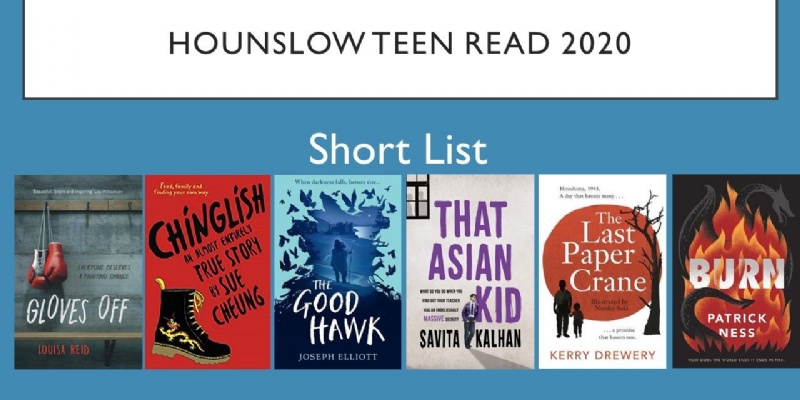 The Hounslow 'Teen Read' book shortlist is in and our Year 10 students could not wait to receive their books!
The Hounslow School Library Services have collectively reviewed a long list of amazing 'teen read' books to create this years shortlist and the winning books are!
Gloves Off: Louisa Reid
'Beautiful, brave and inspiring, Lil's story will have you weeping one moment and cheering her on the next. I loved it.' - Lisa Williamson, author of The Art of Being Normal
Chinglish: Sue Cheung
The diary format is an ideal way for Cheung to allow us intimate access to Jo's life and allows the inclusion of her doodle illustrations, which add verve and character ― BookTrust

The Good Hawk: Joseph Elliott
The Good Hawk is amazing, full of texture that will enliven the senses and imagination. Tense, enthralling, brilliant; an utter feast for lovers of fantasy and historical fiction. ― Fallen Star Stories
That Asian Kid: Savita Kalhan
'A wonderful and intriguing book full of moral dilemma, racism, and how social media and a lack of inclusiveness can ruin lives! Fabulous! I couldn't put it down!' --Emma Suffield, School Librarian of the Year
The Last Paper Crane: Kerry Drewery
This is a harrowing tale but the ultimate redemption in the story leaves one with a sense of hope. Highly recommended. ― Love Reading 4 Schools
Burn: Patrick Ness
Wonderful and mind-blowing and exhilarating and heart-stopping. What a storyteller! I loved it! ― Russell T Davies
Our year 10 students will be given all of 6 books to read over the next 4 months and at the end of this period they will select their favourite and these will be submitted to the Borough to help vote for the ultimate Hounslow 'Teen Read'!
Here's hoping that we will all be able to celebrate together as normal when the winning author of the Hounslow Teen Read annual event is announced!