Full STEM ahead during National Careers Week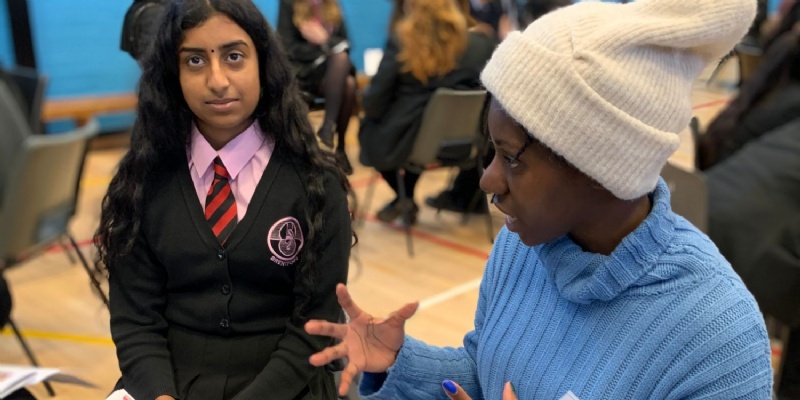 Full STEM ahead during National Careers Week March 2020 thanks to our network of talented, driven and supportive alumni and highly engaged industry specialists.
No holding back! Women make up only 14.4% of all people working in STEM in the UK, despite being about half of the workforce. National Careers Week early March this year was the perfect backdrop for an exceptionally busy week for enriching student learning.
Click here to access pictures from the Year 10 STEM Speed networking and the science lab session with pharmacy alumni.
Click here to access pictures from the Year 8 Career Options Networking.
GIRLS INTO STEM SPEED NETWORKING YEAR 10 & UNDERSTANDING YOUR CAREER OPTIONS YEAR 8.
The aim of the above two events was to connect our students with a wide range of STEM professionals and give them the opportunity to question university students, STEM ambassadors, Scientists, Engineers and other STEM professionals about the range of different careers available to them. Click here for photographs from the event.
Industry professionals from a host of international organisations were present including BSI and SEGA alongside academics, students and researchers from Kingston University, Brunel University and Imperial College London.
Chris Paterson, an executive life coach who coaches future leaders said "It was a great opportunity to support and encourage young people thinking about studying STEM subjects and broaden their thinking about what a scientific education can offer"
Leia-Janine Bromfield-Peltier, a former student at Brentford School for Girls, also attended the event and plays a really important role in helping our girls understand the vast opportunities that exist for them in the workplace.
Leia-Janine left Brentford School (2008-2015) to go on to graduate from the University of Liverpool with a master's degree in Civil and Structural Engineering where she was the President of the Civil Engineering Society (CivSoc). She joined Atkins, a world leading Design and Consultation company, in August 2019 as a Graduate Civil Engineer working in all aspects of engineering; she has been involved in a number of projects such as Crossrail 2 and the remodelling of Croydon's rail system. Working towards her Chartership with the Institute of Civil Engineers (ICE), she also works with the ICE to promote engineering and STEM to under 19s.
INTERACTIVE SCIENCE LAB SESSION & DEBATE.
Another former student from Brentford School for Girls who is committed to sharing her valuable knowledge and insight with our students is Layosa Kakar (3rd year Pharmacy student at Portsmouth University). During the same week, Layosa gave students an overview of the pharmacy industry, various career routes that are open to pharmacy graduates and information on what university Admission Tutors look for in prospective students. She then used state of the art equipment to perform lab experiments with students and presented different ethical case studies which generated much debate and discussion amongst our Year 10 students.
Thank you to everyone, including our amazing Head of Careers, Emma Brown, who helped make these events possible for our students!