MARYVILLE CARE HOME RESIDENT VISITS BSFG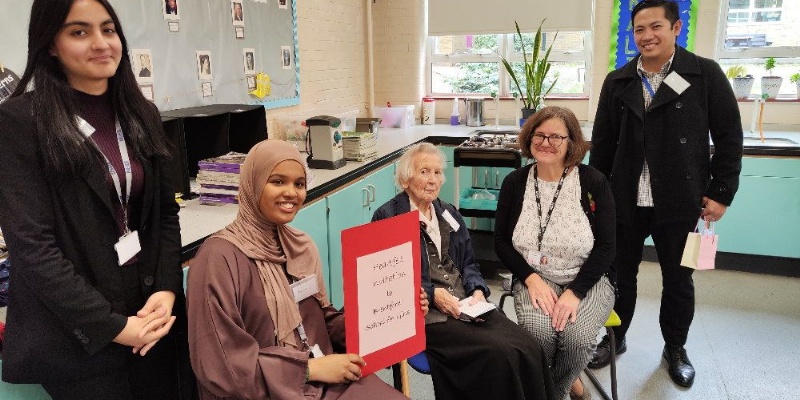 97-year-old Sr. Joseph O'Rourke, a resident of Maryville Care Home, revisited her former place of work, Brentford School for Girls, on the 11th November to officially start a new collaboration between Maryville and the school.
She was not unfamiliar with the energetic atmosphere of the school. The voices of the students reminded her of a sweet melody that she hadn't heard in years. Sr. Joseph was trained as a geography teacher and taught for more than 40 years. She worked most of the years at St. John's Catholic School Brentford, where she retired in 1990. After almost 32 years since her last visit, she proudly walked again into a classroom, excited to share a glimpse of her experience and the passion with which she had carried out her job to the young generation.
The students were quite surprised to hear that on one occasion Sr. Joseph had too many students to fit in the classroom that she had to take two desks out of the classroom so everyone could follow the lesson! They were excited to learn about the fact that in those days teachers had to teach all the subjects and not only the one in which they were trained for.
When the science teacher asked Sr. Joseph what she liked the most about her job, Sr. Joseph said: "I loved the relationship with my students. The human side of the job had made it so much more interesting and enjoyable. The students were very well behaved."
During the visit, Sr. Joseph took a tour of the school hosted by the Careers Coordinator Emma Brown and two students, Faranaz and Aaliya. They promised to see Sr. Joseph very soon on their visit to Maryville Care Home for Christmas.
The new collaboration between Maryville Care Home and the school has created a new space where different generations can interact, converse, share and create memories.