School Production 2022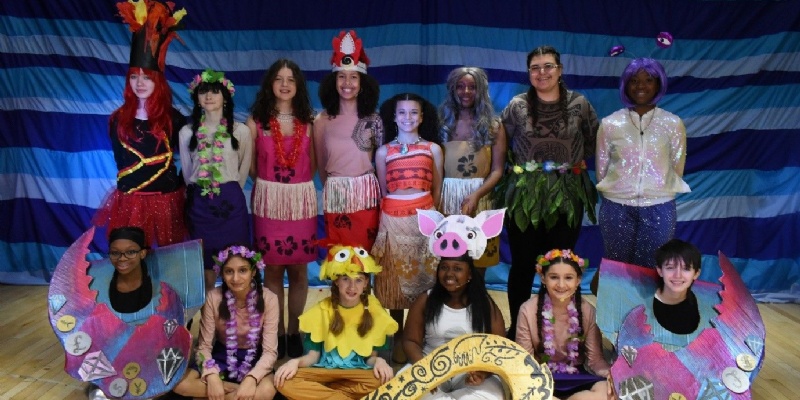 Brentford School for Girls' Music and Drama department has been a hive of activity this week as they prepare for the school production auditions for 'Legally Blonde Junior'. This year's show was announced in the last few weeks before the summer holidays via a series of clues released daily to students. With over 15 lead roles and plenty of ensemble roles up for grabs, students have been keenly learning the audition song "What You Want" for weeks.
'Legally Blonde' tells the story of Elle, a popular girl whose heart is broken by her boyfriend Warner when he breaks up with her stating she isn't 'serious' enough for him. The story follows Elle's fight to win him back by enrolling at Harvard and becoming a Lawyer. However, what Elle discovers along the way is more important than a relationship- as she truly embraces her individuality.
The school production is always a highlight of the students' academic year- as they prepare to take the stage in February. It allows students to develop their confidence, communication, and leadership skills as well as providing a creative outlet.
Last year the students embraced the Disney magic of 'Moana' with sell out evening and primary school performances. With large casts, often exceeding 80 students across all year groups it is an excellent opportunity to work with other students.
"In my 5 years at Brentford- being involved in school production has definitely been a highlight. It has really helped me develop a broader understanding of theatre and the hard work behind what happens the scenes" Sara, Year 12 Student.
The school production at Brentford School for Girls is not only a chance for students to showcase their singing, acting and dancing talents but also a chance to try out new skills in set design, costume making and prop building. Brentford's strong arts faculty means that students have first-hand experience at creating some of the iconic pieces for the school performance.
"When we did Lion King in 2019- I got the opportunity to assist the Art department in creating the large Simba headpiece. I learnt how to build and sculpt facial features whilst ensuring it was suitable and robust for the performer to wear in the musical" Nidaa Year 12 Student